by screendaily
A happily married polyamorous Italian couple invite the viewer into their romantic life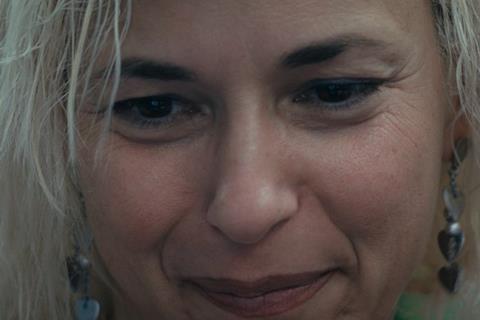 SOURCE: HOT DOCS
'BLOOM UP – A SWINGER COUPLE STORY'
Dir: Mauro Russo Rouge. Italy. 2020. 88 mins.
Subtitled "a swinger couple story", Italian director Mauro Russo Rouge's first documentary after a string of low-budget fiction features is a portrait of an apparently happily married couple in a northern Italian town who, of an evening, like to have sex with other people, together. For the non-swingers who are likely to make up the majority of the film's audience, the hook of this Hot Docs selection is right there in the thorny question of whether it's possible to live in a healthy, loving relationship with someone while being polyamorous.
In the end, this is a film that is more emotionally than sexually voyeuristic
The answer, the film suggests, is complicated. It's clear from the outset that the director — who is also the sole credited cameraman — has been given full access to the lives and loves of Betta and Hermes, the couple at the centre of the story, because they are committed believers in "the lifestyle". They want everyone to know that, as Betta says in one of this observational film's rare voice-over interview nuggets, "the vast majority of swingers are good, normal people". But two things skew Bloom Up away from its subjects' narrative control. One is a late plot twist. The other is an undertone of existential melancholy that comes out in Russo Rouge's lyrical shooting style and impressionistic editing: in the end, this is a film that is more emotionally than sexually voyeuristic. Solid cinematic production values and sheer audience curiosity will score further action for the film after its Hot Docs debut — and as explicit porn triggers such as erect penises are nowhere to be seen, this might even extend to a screening platform berth.
Accompanied by ambient techno music, the film's frequent sexual encounters are shot and edited with gauzy intimacy and no lack of fleshy detail, but even so they come across more as a strange ritual dances than hot porn. That's apt, because there's a definite cult element to the couple's mutual obsession. When not serving customers, stacking shelves or attending to mutts in the pet shop and dog grooming parlour they run together, Hermes and Betta seem to spend much of their time planning their next two or three evening encounters via websites, chats and phone calls, slotting them into a dance card with few free spaces.
In another of her voice-over confessions, chirpy, fun-loving Betta mentions that "these days we have few 'vertical friends'" — their term for those outside of the swinger community. The blindfolds, the high heels, the grinding buttocks and the low moans of pleasure — we return to these over and over as Bloom Up cuts between 'normal life' and 'swinger fun', and for all the poetics of the camerawork and editing, there are times when we might as well be watching a bunch of nerds playing Dungeons & Dragons.
Set against this undercurrent, however, is the obvious affection the couple nurture for each other. Whether working or "playing", shampooing their clients' dogs or dressing provocatively for the next polyamorous night in, the tattooed twosome seem more like kids in the first flush of love than jaded suburbanites — a point driven home by a staged pillow fight scene in a room full of balloons at the end. At one point, quite late on, we are amazed to learn that they have a daughter — but she's never seen. They discuss, with swinger friends, encounters they've had on holiday in the Canaries or at Alpine ski resorts. And gradually, the uninitiated among us piece together some of the conventions of the swinger scene — like inviting 'singles' to 'play' with couples. These should be, Hermes confides, "like flesh and blood vibrators, with no face, no emotions". Unfortunately, that's not always easy to arrange.